ROYAL CHIT-WAN NATIONAL PARK- NEPAL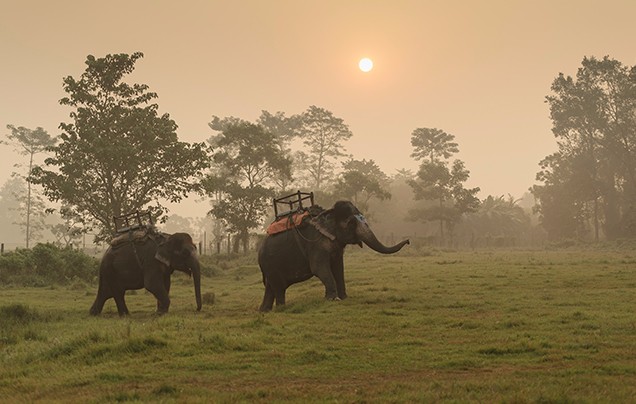 SUN SET AT CHIT-WAN NATIONAL PARK-NEPAL
Royal Chit-wan National Park

(UNESCO Natural World Heritage Site)
Chit-wan National Park
is the first National Park in Nepal. Formerly called Royal Chit-wan National Park. It was established in 1973 and granted the status of a World Heritage Site in 1998.
Chit-wan National Park has been one the country's treasures of natural wonders. The park is situated in south central Nepal, covering 932 sq.km in the subtropical lowlands of the of the inner TERAI. The area comprising the Tikauli forest-from Rapti river to the foot hills of Mahabharat-extending over an area of 175 sq.km. The park consists of a diversity of ecosystems, including the Churia Hills, Ox-bow lakes and the flood plains of the Rapti River and Narayani Rivers. The western portion of the park is comprised of the lower but more rugged. "Someswar Hills". The park shares its western boundary with the "Parsa Widlife Reserves"
The Chit-wan Valley
consists tropical and subtropical forests. Sal forest cover 70 percent of the park.The Park has a range of climatic seasons, each offering a unique experience. October through February with an average temp.. of 25*C offer an enjoyable climates. From March to June temperatures can reach as high as 43*C.
The southern belt of Nepal is known as the Terai. It is low land area covered with dense subtropical forest. Here you will find some of the most exciting safari destinations in the world. The jungle safari activity includes canoeing, nature walks bird watching, excursions, and visit to an ethnic Thar-u village in the jungle safari park.
Thanks to Nepal's extensive and effective Parks and Reserve systems, the country has managed to preserve more endangered species of flora and fauna than any other country in Asia. Now, the protected areas is Nepal include 14 National Parks, 3 Wild Life Reserves, one Hunting Reserves and 6 Conservation areas 11 Buffer Zones. Covering an area of 34,186.62 sq km, that is 23.23 percent of the total area of the country. Royal Chitwan National Park (932 sq.km.) Koshi Tappu Wildlife Reserves (175 sq.km.) and Bardiya National Park (968 sq.km.) are most famous and popular.
The Park offers interesting sites and activities. The display at the "Visitors Center at Sauraha" provides fascinating information on wildlife and conservation programs. The women's user group's souvenir shop offers a variety of handicrafts and other local products for gifts and souvenirs.
Elephant Safari provides opportunity to get a closer view of endangered one-horned rhinoceros. One may also get a glimpse of the elusive Bengal Tiger. "The Elephant Breeding Center" at "Khorsor". Inside the park there are seven resorts, run by Park Concessionaires that can provide lodging,
Regulation
There are certain Rules and Regulations of the Chit-wan National Park that the visitors of the park are supposed to follow in order to visit the park. The Regulations of the park are outlined here below.
An Entry Fee of NRS. 1500/ Foreigners, NRS.750/ SAARC, and NRS. 100/ Nepalese per person has to be paid at the Park Entrance Gate.

Flora and Fauna of the park are fully protected and must not be disturbed at any cost.

Do not purchase illegal animal or plant products. The purchase of illegal animal or plant product may bring you to the legal prosecution.

The visitors of the park must respect the religious cultural sites all around the park.

The visitors are requested to place the trash in the rubbish bins and should care about the cleanliness.

The visitors are strictly prohibited to walk within the park between sunset and sunshine.
Best Time To Visit Chit wan
Visiting any city at the opportune time is important to explore, enjoy and make your holiday memorable! The most comfortable time to visit Chit-wan is from October to March, when skies are relatively clear and average daily temperature is a balmy 25*C. However, the best time to see animals is late January to March when the towering Phanta Grass is slashed by villagers, improving visibility considerably.
October to May
- Bird Watching.
December to March-
Maximum temp. can reach up to 95 Fahrenheit (35*C) in April through September.
November
through
February
are cooler months with average temp. around 67 Fahrenheit.
Map Of Chit-wan
Watch Exciting and Thrilling Moment in Chitwan You Ever Had!
Get On
Bharatpur Airport
- Bharatpur, Nepal is about 10km.
By Bus:
Take the Tourist Bus from Kathmandu or Pokhra. Stop in at one of the many Tour Agencies (in either city) at least 1-2 days before your journey. From Kathmandu, Chitwan is about 4 hours ( cost is approx NPR 350 for standard tourist bus, no A/C) From Pokhra, it maybe 6 hours, when you arrive in Chit-wan ( the village) you will need to take a horse cart or bicycle rickshaw, the 7 km into the tiny village that sauraha. The nearest bus-stand is Narayanghat which has guest houses around it. NPR 400 per way to Kathmandu for 3 persons in Tyota.
For all activities inside and outside, visitors must pay NPR 500 for a park permit, update: 24/06/2012, the fees have increased for SAARC Nationals and Foreign Tourists the fees have been raised from Rs 200 and Rs 500 to Rs 750 and Rs 1,500 per person respectively.
Things to do in Chitwan- Tourist Activities in Chitwan
Top things to do in Chitwan are Jungle safari, Nature walk, Elephant back safari, Jeep safari, Cannoning, Bird watching, Village tours and ethnic group cultural programs. Chitwan is a very beautiful place, it is the centre of attraction for touristd. Things to do in Chitwan is an amazing tourist places to enjoy...Read More
Elephant Back Safari.
Jeep Safari.
Visiting Elephant Breeding Center.
Jungle Walk and Bird Watching.
Canoe Ride.
Village Walk.
Cultural Program.
Elephant Bathing.
Crocodile Breeding Center.
Ox Cart or Pony Ride Chitwan.
20 Thousand Lake Tour.
Brief Introduction
Activities: Jungle Safari on elephant back, Jungle Walk, Canoe Ride, Jeep Drive, Experience of Tharu Culture.
Accommodation: Resort Hotels and Lodges.
Access: The Park Headquaters at Kasara is a 21-km from Bharatpur which is 20 minutes by air or 146 km by road from Kathmandu.
Wildlife: 56 species of mammals that include, one-horned Rhinoceros, Royal Bengal Tiger, Rhesus Monkey, Languor, Geer Leopard, Gaur, Wild Boar, Wild Dog and Wild Cat. 49 species of amphibians and reptiles that include the endangered Long shouted Gharial, Marsh Mugger Crocodile and Python.
Birds: 539 species of birds that include Summer migrants, Birds like Paradis Flycatcher, Indian Pitta and Parakeets etc, during, while Winter Birds include Water Fowl, Brahminyducks, Pintails, Bar-Headed Geese, Cosmo rants and migratory Birds from Siberia.
Vegetation: Deciduous forest with 600 Plant Species.
Best Season: October-March (average temperature 25 degree Celsius); April-June (hot, up to 43 degrees Celsius), July-September (rainy).
Park Headquarters: Kasara.
Added Attraction: Devighat, Padavnagar, Balmiki Ashram, Kabilaspur, Chepang Hills Trails.
Entrance Fees:
Nepali-Rs 100 per day per entry, SAARC Nationals- Rs 750 per person per day, Foreigners-Rs 1,500 per person per day.
Accommodation
Chitwan Paradise Hotel is one of the largest hotel in Chitwan with large Banquet hall.

Built from natural materials it blends perfectly with its jungle surroundings, and offers luxurious facilities. All the individual bang lows at
are perfectly blended with natural surroundings. The rooms are tastefully decorated with private solar powered hot and cold running showers.
Room Facilities
1.Each room is equipped with TV, Telephone and Hot/Cold water facilities
2.Air Conditioned Rooms
3.Suite Rooms
4.Conference Centre
5.3 Banquet Halls
Things to do in Chitwan
1.Elephant Safari
2.Jungle Drive
3.Tharu Cultural Dance
4.Nature Walk
5.Elephant Breeding Centre
6.Canoe Trip
7.Bird Watching
8.Elephant Bath
Access to Chitwan
Facilities
Walk deep into the jungle led one of the lodge's experienced naturalists or journey by Land rover to distant
hills from the world of man. Drift down river in a dug-out Canoe past a pageant of bird life, or watch by flickering firelight the dances of the Tharu Peoples. Chitwan Paradise Hotel, in the living heart of the jungle with its blend of traditional style and modern amenities, offers you the perfect jungle experience.
Resort Facilities
Restaurant.

Bar.

Coffee Shop.

24 Hour Services.

Fitness Center.

Guest Laundry.

24hr. Reception.
Location
By Air
A 25 minute flight from Kathmandu to Bharatpur and then a 30 minute drive to Chitwan
Paradise Hotel.
By Land
From Kathmandu we can transport you to the starting point on the Trishuli River where you will be dropped off for a white water rafting experience. The duration of the rafting trip will vary depending on the season. During this period we visit the 20,000 Lakes area which offers a varied experience of birds and mammals.