NEPAL is a heaven for cyclists with plenty of adventurous trails spanning across the country's amazing landscape, mountains, valleys, cliffs, riverbeds etc.Nepal has been recognized as one of the best mountain biking destinations in the worldwide. Mountain Biking is one of the best ways to experience this Himalayan Nation. Nepal's diverse terrain is a mountain biker's dream adventure come true.Mountain biking offers an environmentally sound way of exploring the magnificent country,with diverse landscapes and breathtaking natural beauty, challenging trails through some of the most stunning scenic and cultural landscapes in the world. With the stunning backdrop of the Himalayan ranges, the extreme valleys and forests of the rugged middle hills, the charming terraced fields and bright smiles in the timeless villages, you will remember this journey for its unique beauty as well as its challenging mountain biking terrain.
Mountain Biking in Nepal: Nepal Mountain Biking Tours has always been a pleasure for a person who loves adventure and sports. The exquisite and varied topography of Nepal offers a wide scope for mountain biking. Mountain Biking is fantastic way to explore to explore Nepal. Nepal Mountain Biking offers a challenging and pleasant scenic ride from the tropical plains of terai, mid-hills mountainous terai and its lush valleys to the arctic climate of the high alpine region. Nepal offers some hard to beat tracks for the adventures lovers. Nepal has many trails. Nepal adventure track can make a challenging climb thousands of meters to reach of view point with fantastic views. Fascinating mountains villages, nomadic lands, winding rivers, rice fields, temples and monasteries and backdrop of majestic snowy Himalayan peaks makes mountain biking trails in Nepal an extremely inspiring play ground for riders. To Ride on Nepal provides you a truly unforgettable mountains biking experience. The land of Himalayas consists of series of uphill and downhill cycling trails spanning all across most part of the country with flatland occurring only in the southern plains of the narrow terai belt. Ridding terrains vary from.
Lush and flat tropics of terai.
Steep and rolling mid-hills.
Towering mountainous region with lush river valleys and
High alpine regions with arctic type of climate.
Best Time to Bike in Nepal:
Nepal has four seasons. So depending on what you would like to do, you can choose your seasons to get involved in Nepal.
Winter (Nov~Jan) One of the best time to cycle in low altitudes of Nepal as the sky is clear.
Spring (Feb~Apr) Another best time to cycle in any altitude of Nepal as the weather remains beautiful and the temperature is moderate.
Summer (May~July) Good for riding the high altitudes such as Mustang area where there is almost no rain.
Fall (Aug~Oct) Generally good for ride in the high altitudes.
Near Dhobi ghat, Bagmati Zone, Nepal
Grading of Cycling Biking in Nepal
A. Casual Recreational Cyclist no mountain biking of off-road experience but having general bike skills and enjoys cycling.
B. Intermediate Mountain Biking/or road cycling experience with some skills developed and enjoys off-road trails.
C. Intermediate Plus good riding skills with off-road experience and enjoys some challenging trails.
Near Dhobi Ghat, Bagmati Zone, Nepal
D. Advanced Regular mountain biker seeking tough/ challenging single track. No matter what earth bound expeditions tour is chosen, safety and health are of major importance.
The Best Mountain Biking Trails in Nepal
For details:
The Best Mountain Biking Trails in Nepal



Best Mountain Bike Trails in Nepal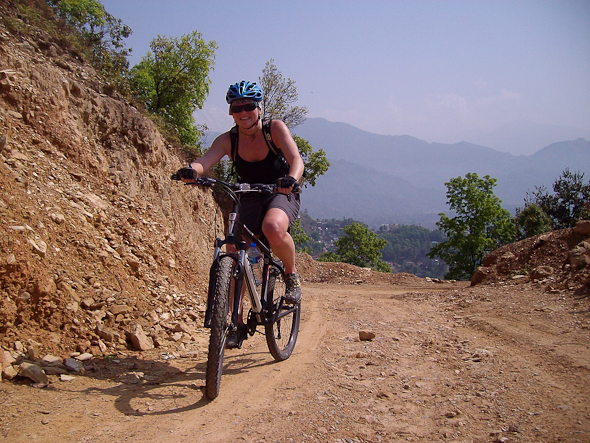 Nagarkot biking trail-Nepal
1.Mountain Biking Around Pokhra Valley: offers one of the most exciting experiences, breathtaking mountain views, picturesque villages, gently rolling chains of hills with terraced fields of rice, subtropical forsts and the unique outline of Himalayas.


2. The Anupurna Circuit: is one of the best bike rides in Nepal, offering a unique insight into the physical and cultural diversity of this fascinating country.
Biking in Anupurna Circuit-Nepal



3. Kathmandu Valley Day Biking: Mountain biking day tour in Nepal is the best way to explore the Kathmandu Valley and around is on a mountain bike, Nepal's diverse terrain is a mountain biker's dream adventure come true. Mountain biking offers an environmentally sound way of exploring this magnificent country, its landscape and living heritage.

5. Nagarkot Biking Tour: This tour is for the intermediate level cyclist, taking you into the small villages around the valley, Shivapuri National Park and the mountain resort of Nagarkot from where you get fantastic panoramic views. This is a great ride for those people who have limited or short time. It's beautiful ride with lots of good action down hill and some challenging climbs, it's a great ride for the recreational to intermediate level ride.